Valerie and I met when she was in second grade, and I was in third grade, on the playground at Broadneck Elementary.  We stayed high on the monkey bars, pretending that the ground was the Fire Swamp from The Princess Bride.  We became fast friends, and became incredibly close in high school when we did the school musical together.  We lost touch for several years as our lives took us in different directions, and found each other once again when Valerie's college roommate was dating my cousin's best friend.  (Can you follow that?)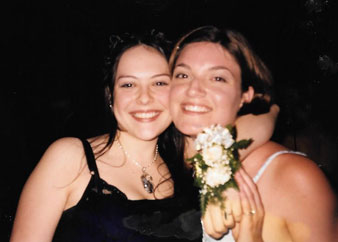 In the Towson University theatre program, she met and fell in love with Steve.  Steve and Valerie were both on their way to becoming successful working actors and models, so a move to LA was in order.  Just when the friendship was rebuilding, Valerie moved across the country.  Again, we grew apart and fell out of touch. 
Years later, out of the blue, I received a text from Valerie.  Big news!  Valerie and Steve were finally engaged!  And the best part: They would get married at Steve's family home in Maryland!  We scheduled a phone call (it had to be scheduled, because I knew it would take a long time for us to catch up. The call lasted for about three hours.)  At first, Valerie wanted advice on throwing an at-home wedding.   Should they really do it at home, or would it be easier to have it at an actual venue?  The date was set for July of 2015.  Valerie was hesitant to have the wedding outside because July in Maryland is unbearably hot and, let's face it, Valerie had bangs.  Eventually, the decision was made.  Valerie would grow out her bangs and have the wedding at Steve's parents' home!  Yay!
Valerie made all the plans herself, with a few recommendations from me, a couple phone calls and emails between us, and the generosity of Steve's family, who all chipped in with their talents.  (Steve has a sister who is a phenomenal graphic designer, and a brother who contributed manpower during wedding setup.) My gift to her was the wedding day coordination service.  With an at-home wedding, there is no venue manager to facilitate everything that happens, so I provided that for her.  Two teenage neighbors helped to run the reception so I could enjoy myself as a guest.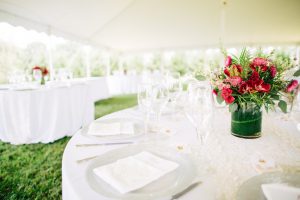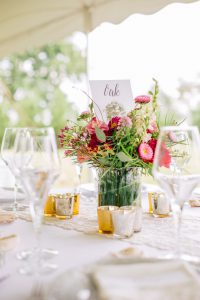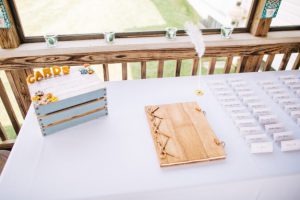 Valerie professed that she had no idea what she was doing when it came to putting a wedding together.  I beg to differ!  It turned out to be one of the loveliest affairs I've attended.  My favorite part was the extremely personal ceremony.  They wed in front of a tree that Steve had planted not once, not twice, but three times.  We learned during the ceremony that Steve was assigned to plant a tree at school with his class in middle school.  He decided afterwards that he wanted that tree.  He and his father drove to the school at night, dug up the tree, and replanted it in their own yard.  Years later, the family moved, and the tree came with them!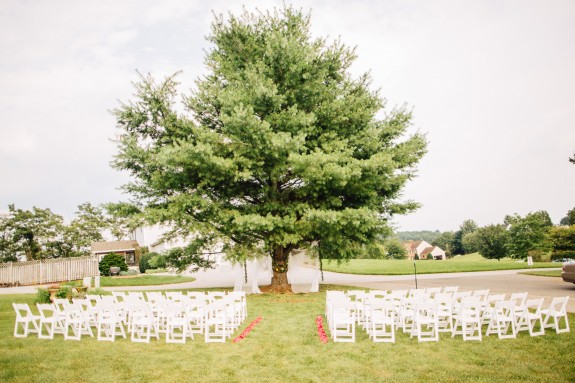 But let's back up a bit, shall we?  The nuptial ceremony wasn't the first ceremony of the day.  Before dressing in their wedding dress and suit, Valerie and Steve were taken to a secret location with their former theatre professor from Towson, who officiated both ceremonies.  They called this the "Mini-Mony."  A brief ceremony with just the three of them (and a photographer.)  No one else really knows where it took place, or what was said or done at the mini-mony, and that's the way it should be.  After that, they returned to the house and continued getting ready.  They didn't see each other again until Valerie walked down the aisle.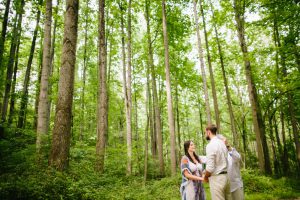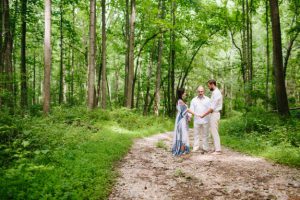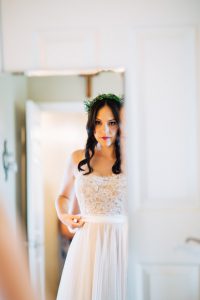 I see weddings all the time.  About 30 times a year, to be more precise.  You'd think I'd be jaded by weddings at this point… I've never sobbed tears of joy more than I did at Valerie's wedding!!  She looked magical.  Like a unicorn, but a lovely human lady.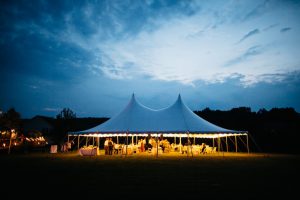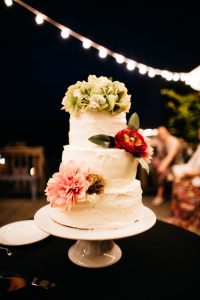 Then came the reception.  After all those years, dancing with Valerie on her wedding day was like sharing the dance floor with her at the Homecoming dance.  It was like no time had passed. 
What a privilege and an honor to have been a part of her wedding day. Being able to spend the entire day with her, and to be such a helpful hand throughout the process made up for all the time we had spent apart. 
Now we talk on a regular basis, mostly about our babies, who are just 3 months apart.  Becoming moms together was one of the most amazing bonding experiences anyone could have, and it has forever bound us in friendship in a new way.
They say your true friends are the ones you can go without seeing for a long time, and when they reunite it's like nothing ever changed.  That's us.  xoxo Love you, Valerie!